Cartoons
Cartoons are quick, light jokes (often one-liners) that may bring a smile to your face - or not! If you've come across a funny one recently, then copy and paste it in the form below for all to see. If you do, then I'll GIVE YOU YOUR OWN FREE WEB PAGE to display it on!
Then you'll be able to send your friends to the page and they will be able to comment on it (as will other people visiting this site). You can also comment on other people's jokes and toons (including mine which I make on Toondoo).

I've separated mine into different categories as I think of them but you don't have to worry about that. Your's will have its own web page!

Send it now in the form below but keep it clean. I want fun not filth!

C'mon, if you're going to send it to your friends anyway, then why not send it here as well?
Cheers,
Darry
Have You Come Across A Funny Cartoon?
Don't send me 100 cartoons all at once! Pick the best one out and send that to me. I'll put it on YOUR OWN FREE WEB PAGE if you do.
What Other People Have Sent
Click below to see cartoons sent from other visitors to this page.

Cartoon - Area 51 Not rated yet
I dug underground to the middle of the area known as AREA 51 (In Nevada). When I broke the surface I snapped this photo and got the heck out of there. …
The Other Side Not rated yet
My cartoon is about myself at my old job - just the things I happen to hear when working there. I used to show people my work, but maybe that's why I …
Here Are My Unique Creations By Category
---
Some of these jokes may require a little thought before the humor becomes clear. (You'll get them!)
Here are some cartoons based on funny questions. I like these.
Go to this page and learn a few comebacks to bar pick-up lines. (Mainly for the girls, but anybody can get a chuckle from them.)
These will help you describe to someone how stupid someone else is (in a funny way).
Click above to go to the Animated page. On that page I plan to make animations out of some of the funny jokes that continually arrive at my inbox from the Internet. You can use them to spice up your email messages to you friends.
Click above to go to the Funny Lifelines page. It should bring a smile to your face.
Your mother might even have given you some advice like this (if she had a sense of humor).
Go to the Critters page which will consist of comics featuring all kinds of animals.
Keep up to date on the funny stuff!
Send me your email address below and I'll make sure you don't miss a "funny" when I add it to the site.
This page has some psychology humor for you.
These comics feature kids (but they're not necessarily for kids).
---
Fun Things Dot Com
› Return To Home Page
---
Funny, Unique Gift Of The Week
If you're looking for a gift for someone that very few other people will have, then click on the mug below!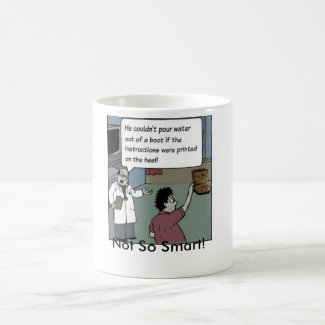 Not So Smart! Mugs
by
funnyemail
View other
Funny Mugs
You can have one of my unique cartoons printed on an I-Pad case, an I-phone, a poster, a hoodie, a poster, a t-shirt, a ball cap and many more things, and then have it delivered to your door!
---
Please note that the "What's New?" section below is updated whenever something I think is funny comes along, therefore some of these "New" blogs further down the page may already have been replaced by the time you click on them!
Want To Let One Of Your Friends Know About This Site? (See Below.)
---
Check out the page above. You might have missed something!
---
Important!
Click on an ad before you leave the site! (That's what pays the bills.)
Many of the photos on this site came from http://freedigitalphotos.net