Good Joke
(Do You Have One You Can Share With Us?)
---
Here's a good joke I got recently. Take a look at it and then decide whether you think it's funny or not. 

Do you know a better one?
If you've got a joke you think is funny, then copy and paste it or type it in the form below and I'll give you YOUR OWN FREE WEB PAGE FOR IT!

You can then send the URL of the page to your friends and relatives and they can comment on it along with any of the thousands of other visitors to this site.

We all get sent funny email messages or funny cartoons from time to time. You can pass them along to your friends.

But why not post them on this site so that many others can enjoy them as well. I simply can't find them all. I need your help! It only takes a minute to copy your good joke into the box, then it's done, so spread the fun!
Cheers,
Darry
---
Nothing To Join!
It's FAST and EASY to do and you don't have to join anything!

You've likely spent longer reading this page then you will spend submitting your good joke! So go ahead, check out the joke below and then send me a better one.
---
Little Johnny Meets Justin Trudeau (Canada's Liberal Party Leader)
Justin Trudeau was visiting a primary school in Canada and stopped into a grade four class. They were in the middle of a discussion related to words and their meanings. 
The teacher asked Mr. Trudeau if he would like to lead the discussion on the word 'tragedy', so our illustrious party leader asked the class for an example of a 'tragedy'. 
One little boy stood up and offered: "If my best friend, who lives on a farm, is playing in the field and a tractor runs him over and kills him, that would be a tragedy."
"No," said Trudeau, "that would be an accident." 
A little girl raised her hand: "If a school bus carrying 50 children drove off a cliff, killing everyone, that would be a tragedy."
"I'm afraid not," explained Trudeau. "that's what we would call a great loss."
The room went silent. No other child volunteered. Trudeau searched the room. 
"Isn't there someone here who can give me an example of a tragedy?"
Finally at the back of the room, Little Johnny raised his hand. The teacher held her breath. In a quiet voice he said: "If the plane carrying you and Mrs. Trudeau was struck by a 'friendly fire' missile and blown to smithereens that would be a tragedy." 
"Fantastic!" exclaimed Trudeau, "That's right. And can you tell me why that would be a tragedy?" 
"Well," says Johnny, "It has to be a tragedy, because it sure as hell wouldn't be a great loss...and you can bet your sweet ass it wouldn't be
an accident either!" 
The teacher left the room!
---
What's Your Funny Joke?
Get your own free web page for your good joke. If someone sends you a funny joke, copy and paste it here and you'll get credit for furthering humor in our world. (Or, just type it in.)

It's that easy!
Jokes From All Over
---
Click below to see jokes from other people.

The C-Nile Virus Not rated yet
Symptoms: 1. Causes you to send the same e-mail twice. (Done that!) 2. Causes you to send a blank e-mail! (That too!) 3. Causes you to send…
---
Go and see what I think is funny. I post jokes on this page that I personally think are funny. There are only a couple there because I change them whenever another good joke comes along.
Go see what I've done with my cartoons. (Basically, if I see a short joke that I like, then I try and make it into a cartoon.)

If you come across any that you think would make a good cartoon, then send them to me there.
I've started a "FUNNY OR NOT" page where you can go and tell people whether you think a joke is funny or not by voting on it. Then compare your sense of humor to others that have voted.

Go ahead, voice your opinion.
Funny Email For Everyone Home Page
Click here to go from this Good Joke page to the Funny Email For Everyone home page and your choice of personal, business or greeting card "funny email templates".

Let's spread some humor!
---
Funny, Unique Gift Of The Week
If you're looking for a gift for someone that very few other people will have, then click on the mug below!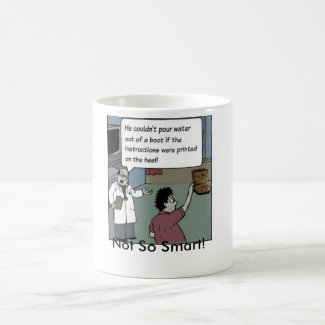 Not So Smart! Mugs
by
funnyemail
View other
Funny Mugs
You can have one of my unique cartoons printed on an I-Pad case, an I-phone, a poster, a hoodie, a poster, a t-shirt, a ball cap and many more things, and then have it delivered to your door!
---
Please note that the "What's New?" section below is updated whenever something I think is funny comes along, therefore some of these "New" blogs further down the page may already have been replaced by the time you click on them!
Like Us On Facebook Or Comment On The Site Below...
---
Important!
Click on an ad before you leave the site! (That's what pays the bills.)