(Big Changes Are Happening!)
This Fun Things Dot Com website used to be called Funny Email Jokes, but over the years things have changed and so I decided to change the website as well. When I started it, email was big, Twitter and Facebook were just getting going and many of the things we do over the internet now weren't even thought of then.
Now, instead of just focusing on email, I wanted to expand to include all kinds of fun things that I've been involved in throughout my life and that might interest you as well. I'll try and maintain the humor but in a slightly different manner.
The website appearance will change but a lot of the pages will be kept as they are because people still search for many things that I started many years ago. But the new name will give me more scope to go and find and present to you other funny situations, places, toys, inventions, incidents, etc. I'll be able to cover a broader range of topics than I could with "Funny Email For Everyone".
So, this is the first change that's happening. Over the next few weeks I'll be changing other pages and rearanging things. Hopefully the changes will go smoothly but to all of you who believe that, I do have some swampland in Florida that you might be interested in!
Thanks for your indulgence.
---
Funny Quote Of The Day
(This changes daily, so bookmark the page and come back often to see what funny people have said.)
---
Sign Up For A FREE SMILE!
Every once in a while I come across a joke I think is particularly funny or interesting and send out a short notice to a bunch of subscribers and then if they want, they can click and have a quick look at it too. I don't do it on a regular basis, just when I find a gem.
If you'd like to be included in that group, then send me your first name and email address from the form below and I'll make sure you get on the list.
P.S. (You can get off any time!)
---
Fun Things Blog
Click here if you want to see what I have sent out to subscribers lately.
---
Click Below For More Unique Fun Things!
For those of you who remember the old Funny Email Jokes site, you will now likely notice that I have dropped the right  and left columns that used to contain links to my other pages. (It just made the center "Content" column too small on smart phones.)
Instead, what I have done is put everything under one of 5 "Drop Down" tabs at the top of the page. That gives me more space. (I hope you can still find what you are looking for.)
And because this is the Home Page for the site, I've also listed them below so that you can just continue down the page and find something to laugh at!
Go ahead, start clicking on fun things now!
---
This section is huge and continues to grow as I find new "funny" jokes to highlight. I've tried to separate them into different types in case you're looking for something specific. I've also placed some cartoons and comics in this section, mostly towards the bottom.
---
This section will include places I've been either on my Harley or my RV or my vintage MGB sportscar. You might want to visit some of them?
---
Greeting cards on the Internet often lack humor. Replace the standard verbiage with any of these Funny Email templates.
---
Here are just a few songs I've made up from old rock and roll songs to poke fun at something. (I get bored easily!)
---
If you want to be a better group leader (or make your group better) then take a look at work I've done in this area. I call it Familizing!
---
This is where I think I'm going to place funny pictures I get sent to me and also, any of the pages about me personally that I think you might be interested in.
---
I make money from this website by doing something I like and you could do that too. If you've had that thought, then check out this page.
---
And Don't Forget...
I'll send you the good, funny jokes once in a while if you give me your first name and email address in the form below. (Don't worry, you can always opt out if you want.)
---
---
Funny, Unique Gift Of The Week
If you're looking for a gift for someone that very few other people will have, then click on the mug below!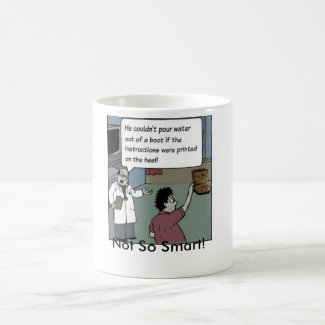 Not So Smart! Mugs
by
funnyemail
View other
Funny Mugs
You can have one of my unique cartoons printed on an I-Pad case, an I-phone, a poster, a hoodie, a poster, a t-shirt, a ball cap and many more things, and then have it delivered to your door!
---
Please note that the "What's New?" section below is updated whenever something I think is funny comes along, therefore some of these "New" blogs further down the page may already have been replaced by the time you click on them!
---
Want To Let One Of Your Friends Know About This Site? (See Below.)
---
Check out the page above. You might have missed something!
---
Important!
Click on an ad before you leave the site! (That's what pays the bills.)
Many of the photos on this site came from http://freedigitalphotos.net